glossary image: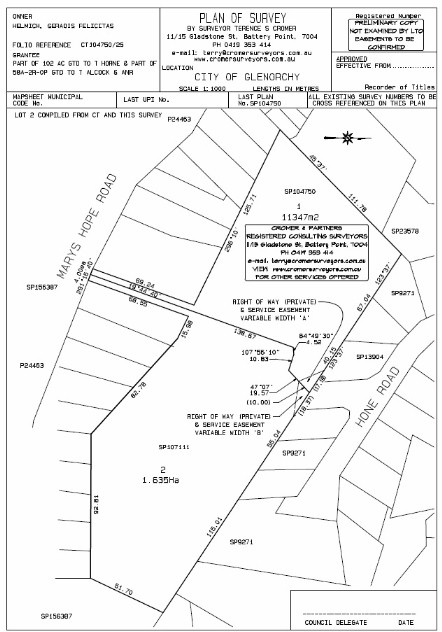 Balance (Title) See also "Compiled Plans": When only a portion of a title is the subject of a subdivision, the Lands Titles Office requires the surveyor to prepare a plan that reflects the land that is left behind; ie the 'Balance'. This land portion is quite often NOT surveyed even though it will end up with a new title number and has all the appearances of being surveyed. It is quite often recognised as such on the plan when there is a notation on the plan that "Lot XX is compiled from Title XXXX and this survey". Quite often is a bone of contention as owners sometimes think that because they have a new plan and the surveyor has been on site, that their balance has been surveyed. Balance Plans are usually 'compiled' plans.
The example to the right shows what appears to be a survey of two lots; however, view the notation on the Sealed Plan (top left) where it indicates that Lot 2 has been compiled from CTXXXX and this survey". In other words, Lot 2 has NOT been surveyed. (a further clue is that there are no 'bearings' shown around the boundaries of lot 2, as there are for lot 1)
SIMPLY:
a visual depiction of the land remaining after a subdivision
HOW WE ASSIST:
we prepare these plans in accordance with the Titles Office requirements.