glossary image: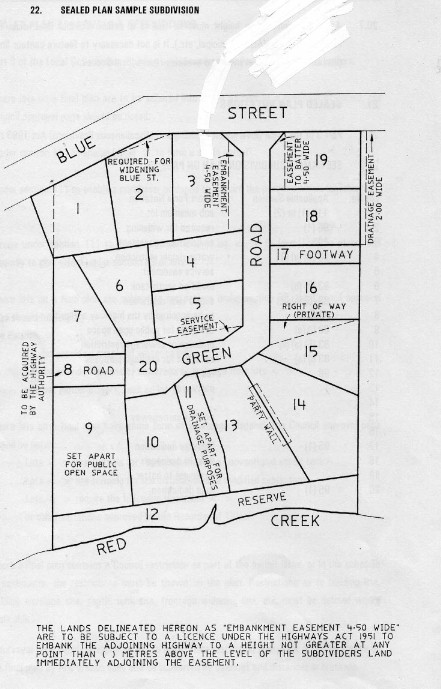 Road Titles in your name?: It is not unusual for a person to hold title to a parcel of land that they have no rights over because that parcel has been dedicated on the plan of title by a notation referring to the lot as, for example, -
- Road
- Footway
- Reserve
- Set Apart for Drainage Purposes
For simplicity sake lets call these parcels of land Service Lots.
Comes about when a Local Council fails to require a subdividor to transfer Service Lots into the name of Council; they stay in the name of the subdividor as their 'Notation' on the plan has a Legal meaning. Generally speaking the use of such land inside these service lots is governed by the exact wording on the plan, the notation. Where the land has been taken over (managed) by a local Council for a public purpose, the land owner may have no right to use the land at all, merely being the registered proprietor of the title.
If a plan carries the notations (wording) Road Reserve, Drainage Reserve or Reserve then the lot in question becomes the responsibility of the Crown, even if the name on the title is the original subdivider.
SIMPLY:
This means that in the past when a subdivision was undertaken those lots that were to become road or Public Open Space or the like sometimes were not transferred to the relevant Council or body. The title stayed in the name of the subdivider. Normally you have no right of use to this land except as a member of the public. It is like holding the land in trust for the public.
HOW WE ASSIST :
We can determine the status of your entitlement and advise you of your rights.