survey image: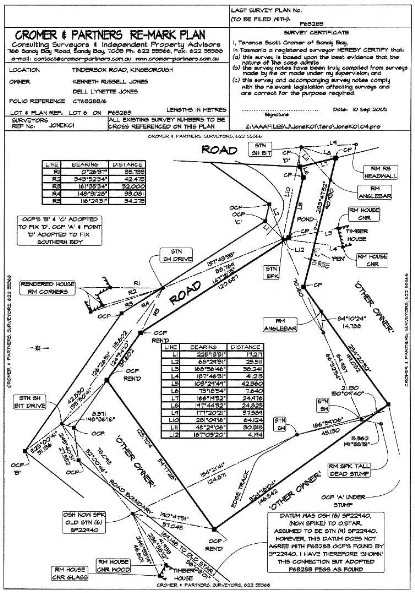 Please Write a Review if you feel this page has been of assistance.
These surveys are carried out by authorised land surveyors to re-instate and re-mark your Certificate of title boundaries and title corners in accordance with land surveyor's legislation. This legislation requires the surveyor to 'connect into' Map Grid of Australia  Co-ordinates and prepare a Re-mark Plan. If instructing firstly have a look at those links relating to Survey Fees, Terms of Contract and Survey Methology. Survey Methodology explains in part that the "Surveyor forms an opinion based on the best available evidence". Please note there is no Boundary Survey that generates fees less than $800 + gst, most titles created within the last 20 years would cost at least $1300 + gst but all Remark surveys are subject to Survey Methodology and the rules of Boundary Re-establishment which can result in substantial increase in fees. Older surveys, travel, slope and vegetation effect survey costs.
The resultant re-mark plan is lodged and filed with the Recorder of Titles. Note it is not examined by the Recorder but purley registered as recorded information. It is always possible that the registration of a future cadastral survey plan may vary (due to a number of factors, including the 'other' surveyor having a different opinion) or re-define the same boundaries in accordance with established boundary evidence and the legal rules of boundary re-instatement.
The re-mark survey does not change your Certificate of title boundaries, but the survey marks placed do become part of the recorded cadastral fabric that future surveys and surveyors will need to consider. Survey Fees are applicable.
HOW WE ASSIST

If you are going to fence your property or build close to a boundary then you need to know where your boundaries are. Our advice could save you money, particularly if a full boundary re-mark survey is not really necessary for your project.
Contact us for advice in relation to these matters.